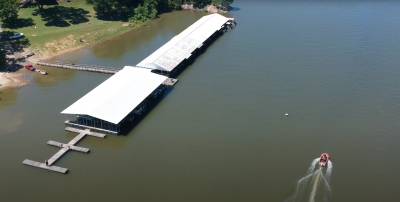 Take the work out of boating by leaving your boat moored at our marina.  We have boat slips to accommodate fishing boats and jet skis, and larger boats such as pontoons, deck boats and runabouts.  You can fill your tank at the marina's gas dock and stock up on beverages and snacks at the store.   
Rates:

Annual Boat Slip Rental:
Covered North dock:
$600 Year
$200 Month
Covered South Dock:
Large 10' x 24' Slips
$800 Year
$200 Month
Overnight Boat Slip Rental:
$10 / Day
Rental ends at 11:00 am & new charges begin.
Outside Boat and Camper Storage
$50 / Month