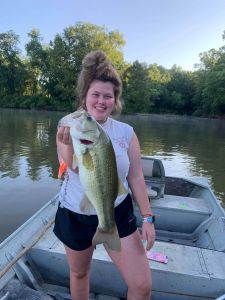 FISHING
Lake Wappapello offers great opportunities for all types of fishermen.  With several creeks extending off of the main channel of the lake, there are plenty of fishing spots for all seasons for catching a variety of fish, including crappie, white bass, catfish, bluegill and black bass.
Just south from Holiday Landing Campground on the lake is Davidson's Blue Spring, a huge underwater spring that reaches down at least 300 feet.  The outflow of the spring creates one of the best winter fisheries in Missouri.
Crappie and white bass dominate the early season as each new year gets going. Crappie congregate along the old river channel and are easier to catch then.  White bass move up toward the river, gathering together in deep holes to fatten up before their spawning run in April.
Largemouth bass are the predominant black bass caught in Wappapello.  They begin moving into the shallows in March and April. Catfish get active in May, and from there on through to cold weather, fishing is pretty much a GO for everything.
White bass, which become hard to find after the spawn, show up again in late summer, chasing shad.  Fishermen enjoy the fight that a white bass puts up as they reel it in.
The lake has something to offer for the more off-beat fisherman too.  It is excellent for bow fishing for rough fish, such as gar, in the spring and at night. Gigging of rough fish is legal in the winter and is attractive to some.
Choose from a variety of live and frozen bait at the store, and stock up on your fishing gear before heading out on the lake.
There's also as swimming pool at Holliday Landing that benefits fishermen. No, it isn't stocked with trout. But on those hot summer afternoons after a morning of fishing, the pool is a great place to take it easy before going out again for that rush of action at twilight.
Holliday Landing now offers GUIDED FISHING EXCURSIONS. Call ahead for details and availability.
HUNTING
The area surrounding Holliday Landing also provides hunting prospects for all seasons. There are 40,000 acres in the Wappapello project, and most of it is open to public hunting.  Add to that 60,000 or so public acres in the Mark Twain nearby and there's plenty of upland hunting - deer, turkey and the occasional wild boar. Also, smaller animals, such as squirrels, may be hunted.
On the lake, duck hunting is good and there are two state managed duck hunting areas nearby. A large arm of Lake Wappapello is closed each year as a waterfowl refuge, which holds ducks for hunters as well as those who just want to see them.
Consider Holiday Landing Campground when planning your next hunting or fishing trip, or just a getaway to explore the wildlife of Lake Wappapello.
Guided fishing options by:
Tim Wadlow, Ozark Fishing Experience
573-631-7042
Email: wadlowtw@yahoo.com
Website: https://www.facebook.com/ozarkfishingexperiencellc
Check out the latest fishing report for Lake Wappapello:  http://www.mdc.mo.gov/fish/fishrt/